Rurex-Stahl - Dr. Otto Kukla GmbH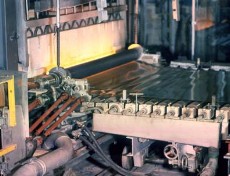 Supplier of Casting and Rolling Technology, Glass Drawing Technology, Profile Glass Machines, Transportrollers, Tablerollers, Lehrrollers, Orificerings, Shearblades

Castglass machines
RUREX is a manufacturer for low iron solar panel glass forming machines.
New generation of RUREX machines for 2 mm solarglass, pattern, wire and figured glass. Frequency controlled gears. Synchronisation of main rollers. Maintenance free bearings. Electronic controlled glassthickness adjustment. Emergency quick lift out for top roller. Wire unwinder system with tension/pressure leading roller.

Profileglass machines
Infinitly variable RUREX machine for all profile widths between 220 - 500 mm. Frequency controlled gears. Maintenance free bearings. Profiles with wire net and length strings. Colour coating. .

Rollers
RUREX is producer and supplier for all types of rollers.
Main rollers: plain and pattern
Transportrollers
Tablerollers
Lehrrollers
Shearblades
RUREX is worldwide supplier for shearblades in a special anticorrosive alloy: — due to our hightech production process you will obtain a maximum in EFFICIENCY, PRECISION and QUALITY.
On request RUREX supplies a various sorts of special models (waveshaped cutting edge, cooling slots or drills, bigger radii, grinded fixing areas and others).
Also available shear blades in tungsten carbide.