Sparklike Oy is proud to introduce their new turnkey Sparklike Online™ system that allows IG-line integrated and non-destructive measurement of argon concentration of triple and double glazed insulating glass units, also through coatings and laminated glasses. Sparklike Online™ is developed and manufactured in Finland and is based on Sparklike's patented and proprietary technology.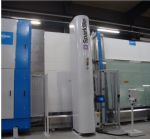 With Sparklike Online™, the IG manufacturers are able to confirm the proper functioning of the gas press, in an automated way. This innovative system – along with other Sparklike devices™ – will be demonstrated at this year's GPD 2019 (stand E24) held in Tampere between the 25th – 28th of June 2019.
"We are proud to finally offer IG-manufacturers worldwide a turnkey possibility to install a measuring system directly to the IG-line. Similar installations have already been realised with our Sparklike Laser™ measuring components, but now everything is available as a turnkey installation from us " says Mr. Mauri Saksala, Director of Line Integrated Solutions from Sparklike Oy. "The Sparklike Online™'s dimensions and speed are compatible with all kinds of IG-lines and the level of integration can be adapted based on the customer's needs and insulating glass line requirements," Mr. Saksala continues.
Furthermore, first installation has already been finalized, the client is Glaseksperten A/S in Denmark. There the Sparklike Online™ has been installed and integrated into a state-of-the-art IG line. Glaseksperten A/S wanted to have full controlled system to maintain and monitor their quality, since they have over 25 years' experience in glass processing and a vast quality conscious clientele, which is both national and international.