Glass manufacturer and processor AGC Interpane will not exhibit at Bau 2021 due to the ongoing uncertainty surrounding the coronavirus pandemic.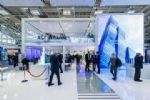 "Since the situation will most likely not be resolved by next January, we want to act responsibly towards our employees and customers and make sure we do nothing that might endanger their health," explains Marc Everling, Head of Marketing Communication and Events Manager at AGC Interpane.
The decision was also motivated by economic factors: "For us, a trade show means engaging in lively discussions, sharing a bite together in a busy booth and doing business in the meeting rooms – all of which are difficult to imagine in the current context. Given this, we don't think that exhibiting at a major trade show will be an enjoyable experience or financially successful at this time, even if it is technically possible to do so by deploying hygiene solutions, social distancing, compulsory face masks and visitor management". Everling stresses, however, that the cancellation does not mean goodbye forever: "We aim to be back in 2023, exhibiting many innovations in a safe and healthy environment".