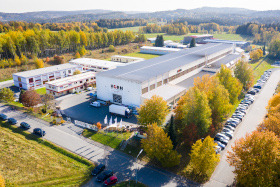 The heart of the HORN Glass Industries AG is the engineering of glass melting furnaces for the glass industry. Numerous national as well as international companies have placed their entire plant engineering in the hands of HORN.
Plant planning and design are done on the most modern CAD stations and executed using equally modern construction methods. This has led to HORN being the "innovation factory". Furthermore the whole peripheral equipment around the furnace and forehearths is supplied.
Reliability and durability are the chief criteria for all equipment whether wholly or partly manufactured in house. Individual consultation in terms of the selection, adaptation and application of technically and economically sound solutions are HORN´s speciality.
The company is specialized to tailor entire plant packages for Container and Float glass industry. The products outside of the standard range of HORN can be supplied together with the furnace. So to speak, HORN is your one-stop-shop.

Melting Furnace
Forehearth
Boosting Systems
Heating Equipment
Batch Chargers
Electrical Equipment
Peripheral Equipment