Bertram Elektrotechnik GmbH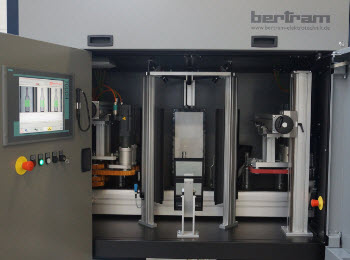 Bertram Elektrotechnik is a high achieving third generation family company with a good reputation both in Germany and worldwide. Having worked in the field of glass for over 30 years, we understand the needs of the glass manufacturers which enables us to offer innovative, practice-orientated solutions. We specialise in line control and automation systems in the cold end of the container glass manufacturing process. Along with our systems we provide a transfer of know-how between our employees and our customers as well as continuing customer support. Along with Bertram Bildverarbeitung, we can build complete solutions including very reliable custom image processing systems.
We understand the need for the precise orientation of containers at some points in the process: for quality control; labelling; packing; etc. We have, therefore, designed an Orientator which can turn the containers to the desired orientation for the next part of the process. As well as this we offer a Separator, which recognises the containers and can tell an Allocator to which conveyor belt tracks they should be sent. The Allocator then pushes them to the desired track.
As well as our standard products we are able to develop individual, customer specific solutions. Based on our wide experience in applying our products, we are able to support our customers from the ideas phase, where we can link the ideas of our customer with our expertise, through the stages of project planning and software programming procedures to efficient manufacturing, assembly and start-up.