Winterthur Technologie kauft Wendt
Die Schleiftechnologiefirma Winterthur Technologie übernimmt die deutsche Wendt und verstärkt damit ihre Position bei den superharten Schleifmitteln Diamant und CBN. Umsatz und Gewinn werden mit der Akquisition verdoppelt.
Winterthur Technologie wird mit der Übernahme auch den Gewinn verdoppeln können.
Winterthur Technologie zahlt der bisherigen Wendt-Eignerin 3i Deutschland 99 Mio. Euro und übernimmt Nettofinanzschulden von 32 Mio. Euro sowie Rückstellungen von 22 Mio. Euro. Der Gesamtpreis beläuft sich damit auf umgerechnet rund 253 Mio. Franken, wie Winterthur Technologie bekannt gab. Das in Zug ansässige Unternehmen will diesen Einkauf im Wesentlichen durch eine Kapitalerhöhung in der Grössenordnung von 100 Mio. Fr. sowie mit Bankkrediten finanzieren.
Mit der in Meerbusch bei Düsseldorf beheimateten Wendt verdopple sich der Umsatz bei vergleichbarer Rentabilität. Winterthur bestätigt denn auch die Ziele für 2007 betreffend Umsatz und EBITDA-Marge von 18 bis 19 Prozent. 2006 lag der Wert bei 18,6 Prozent.
Optimale Ergänzung
Der Umsatz der erweiterten Gruppe hätte im vergangenen Jahr 318 Mio. Fr. betragen, wie es weiter heisst. Winterthur Technologie hatte den Umsatz um 10,6 Prozent auf 86,3 Mio. Euro (135,8 Mio. Franken) gesteigert. Der Gewinn lag mit 8,9 Mio. Euro ein Viertel über dem Vorjahr.
Der Mitarbeiterbestand wächst um 879 auf 1500. Die beiden Unternehmen ergänzen einander in ihrer Nischenstrategie sowie technologisch und geografisch, wie es im Communiqué heisst. Synergien lägen in einer markant erhöhten internationalen Marktpräsenz mit verstärktem Produktportfolio.
---
Logo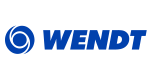 ---
Menue
---
---
---
---
Contact Info
If you want to submit a message or have further questions about the offered machinery, equipment or services, please click "Enter Contact Form..." to submit your message.
---