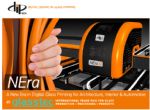 Dip-Tech, the world's leading provider of digital ceramic in-glass printing solutions, is pleased to announce its participation in Glasstec 2016, September 20-23, at the Dusseldorf Messe, Hall 12, Stand B49.
Unveiling a new era in digital ceramic in-glass printing
At the Glasstec show, Dip-Tech will unveil its new printers for architecture/interior design and automotive applications. Based on advanced technology, the new printers take digital ceramic in-glass printing to a new level for quality, throughout and productivity. They will be working continuously during the show, printing on various sizes and types of glass. In addition, live demos will run throughout the show.
The new solutions will be officially launched at a kick-off event at the Dip-Tech booth.


About Dip-Tech
Dip-Tech is the world's leading provider of digital in-glass printing solutions that combine the durability of ceramic inks with the versatility and quality of digital printing. With more than a decade of market experience, Dip-Tech provides an unmatched and field-proven solution for all exterior and interior flat glass printing applications spanning a full range of artistic and functional requirements.
Dip-Tech helps its customers worldwide to differentiate themselves and accelerate their business by offering unique, high-margin, and fast turn-around products and services to architects, interior designers, and transportation glass manufacturers. Through the Dip-Tech Resource Center, Dip-Tech provides technical, graphics, business development, and marketing support to enable glass processors to successfully integrate digital in-glass printing and excel in the market.