Hannover Messe 2014, Hall 9, Booth D35
• Wide-ranging technological platform as the basis for Industrie 4.0
• Further convergence of the real and virtual production worlds
• Partnership with McAfee provides an extensive security offering

The Hannover Messe 2014 formed the ideal backdrop for Siemens to unveil its strategy for the next steps towards the future of manufacturing: On the basis of its extensively integrated product portfolio for industrial applications, the company plans to focus its future development work on expanding its Manufacturing Operations Management (MOM) systems, as well as consistently driving forward development of its Digital Enterprise Platform product offering. New automation components will be designed to allow simpler integration into automation and drive solutions in line with the "plug 'n' produce" philosophy.

The Siemens presentation at the Hannover Messe 2014 demonstrates how the company works with its customers to tackle current challenges, helping to shape a whole new era in the world of manufacturing. "Economies around the globe are investing enormous efforts into strengthening their own manufacturing industries. Advancing digitization in production technologies is opening up new opportunities to make industrial enterprises fit for the future, allowing their sustainable participation in the forecast global growth within newly evolving global production networks," said Siegfried Russwurm, Member of the Managing Board of Siemens AG and Industry Sector CEO, speaking in Hanover. With its comprehensive portfolio of integrated hardware and software, Siemens believes it is in an ideal position to support its customers in this development process.
On the journey towards an ever more closely networked global manufacturing world, the company anticipates that the market for industrial IT and software is set to grow twice as fast as the overall market for industrial automation and drive technology, at an average rate of seven percent per annum. Siemens is ready with the right answers, and intends to consistently expand its innovation lead in the field of industrial IT and software. Russwurm: "With Totally Integrated Automation (TIA), Integrated Drive Systems (IDS), PLM software and Data-Driven Services, Siemens leads the field as a pioneer of integrated production technologies. This forms the basis for cohesive optimization of the product development and production processes of our customers, who share our journey towards the future of manufacturing".
As Siemens is able to demonstrate hands-on at its booth in Hall 9 at the Hannover Messe, the Siemens technology already in place today is capable of implementing "Industrie 3.X", according to Russwurm. This is illustrated by exhibits such as the model of an automated door assembly production line for the VW Golf 7, which offers the benefits of integrating "smart" industrial software with high-performance production hardware. Russwurm: "On the basis of our Digital Enterprise Platform, the virtual and real production worlds are already converging to a large degree. By combining hardware and software, we are already able to automate complex multi-stage production processes." A multimedia presentation at the booth also demonstrates how this same task will be implemented in the future as an Industrie 4.0 solution.
The foundations for the road from Industrie 3.X to 4.0 are already being laid by Siemens: Based on the company's high-performance Manufacturing Execution System (MES) and Digital Enterprise Platform product offering, Russwurm envisages that the Industry Sector will facilitate global and highly flexible value creation networks for its customers using a Manufacturing Operations Management system. This development is aimed at building bridges - from dig ital Product Lifecycle Management (PLM) applications and Enterprise Resource Planning (ERP) solutions to real production. Achieving a cohesive exchange of data between the individual fields will open up new productivity potential. On the field level, Siemens also plans to drive forward the integration of all components in line with the "plug 'n' produce" philosophy, so providing support for its customers in implementing high-performance automation and drive solutions.
As the increased networking and digitization of production will bring about a need for new security concepts, Siemens is also looking to achieve further advances in this area. At the Hannover Messe, Russwurm also announced plans for Siemens to step up cooperation with its partner McAfee, a subsidiary of Intel Security, with a view to developing joint security solutions for industrial manufacturers: "McAfee's extensive IT technology portfolio provides the ideal basis for Industrial Security Services from Siemens." This is expected to help further extend the company's leading position in the field of automation and drive technology by making available added security solutions and services to industrial customers. "The cooperation arrangement will allow both companies to pool their expertise and their long years of experience in automation and cyber security to ensure that the path towards the future of manufacturing is made as secure as possible for our customers", concluded Russwurm.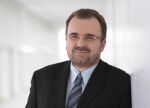 Siegfried Russwurm, Member of the Managing Board of Siemens AG and Industry Sector CEO