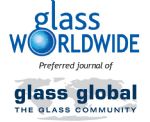 Preferred journal of Glass Global, the 168 page September/October issue of Glass Worldwide is now available, focusing on the latest news, technology, market information and event coverage.
To download free selected articles and order the full paper and digital copies, visit www.glassworldwide.co.uk or email subs@glassworldwide.co.uk
Including a series of exclusive interviews with industry figureheads covering recent key investments from across the world, 46 articles from 18 different countries in the September/October issue provide balanced editorial coverage to assist all areas of production and processing. Highlights include:
ON THE SPOT:
Sanjay Somany announces significant investment in HNG's float glass operations and discusses the challenges and opportunities facing the Indian glass container sector.
John Gorter, CEO of Ardagh Glass Europe talks about the current business climate in Europe and his new role as President of FEVE.
Sanjiv Gupta of Guardian Glass details the company's two float plants in Thailand, representing investments of approximately $350m.
FACTORY SPOTLIGHTS:
Majan Glass: Gerry Varvias spoke to Glass Worldwide about this year's heavy investment in production-related machinery at the Omani glassworks.
Verallia Chile: Gabriel Navarro explains how major investment planned for 2019 will increase capacity by two-thirds.
FOCUS ON BRAZIL:
Flat and hollow glass market report from Abividro.
Factory Spotlight on Nadir Figueiredo.
Spotlight on CeRTEV.
PERSONALITY PROFILES:
Dr Hildegard Roemer, Head of Development, Hot Processes at SCHOTT and a member of the General Managing Board at GlassTrend talks about both organisations and her role within them.
Marcello Montisci, currently Head of Corporate Sales, Marketing and Production Planning for the Vetropack Group, discusses his long glass career and his role with FEVE.
OPINION:
Leading bodies from the solar community call for action to ensure a sustainable future for European PV manufacture.
SUIPPLIER FOCUSES:
DSF Refractories and Minerals celebrates its 125th Anniversary.
Henry F Teichmann Inc explain their motivation in acquiring E W Bowman.
BUYERS GUIDE: DECORATION
A preview of the GlassPrint 2017 conference and exhibition to take place in Düsseldorf on 29-30 November + a series of articles highlighting recent materials and equipment developments from a representative selection of suppliers.
TECHNOLOGY TOPICS:
10 technical articles covering conditioning, forming, handling, melting, monitoring, processing, process control and quality control + a GlassTrend paper about catalytic ceramic filters.
EVENTS:
Reviews and previews of the ATIV Conference, Conference on Glass Problems, Glass Focus Awards, CelSian-NCNG Technology Course, Furnace Solutions 12, Heye Symposium 2017, ICG Annual Meeting / Sisecam Glass Symposium, Gulf Glass, China Glass, GPD, glasstec 2018 and the ICG Summer School + a comprehensively updated Forthcoming Events diary for 2017-18.
ASSOCIATION COLUMNS:
Topical contribution from GIMAV, Glass Alliance Europe and Glass for Europe covering issues affecting their members in the flat and hollow sectors.
Don't miss out on this bumper issue - to receive the full paper and digital versions, subscribe at www.glassworldwide.co.uk