Bystronic glass has brought on to the market the first machine in the world that can break automotive glass with and without a template. Customers gain both functions in one cell with the champ'speed 2in1 and can switch easily between breaking with and without a template. "As a result, we enable customers to use the machine according to individual requirements or orders whilst optimising production processes at the same time", explains Jean-Phlippe Chételat, Head of Automotive Glass Sales at Bystronic glass.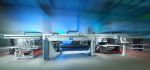 In addition to templates that support the glass during the cutting process and ensure a correspondingly high quality of the break edge, the champ'speed 2in1 is equipped with a freely manoeuvrable underlay that aligns itself to the break edges. Jean-Philippe Chételat explains: "With this innovative technology, we currently offer the only machine in the world to date that can flexibly and economically process the whole range of automotive glass with one cell: from large-scale runs of simple cuts through to small numbers of complex shapes and large radii." The big advantage of the champ'speed 2in1 primarily lies in the fact that the customer no longer has to make compromises whatsoever during production as they always have the correct breaking function available for every application. By investing in a single cell, the customer therefore obtains two applications time as a result.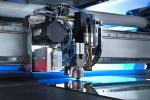 Combination of dual function advantages Thanks to the dual functions of the equipment, this machine is particularly suitable for larger companies within the sector. However, via this development, Bystronic glass is also addressing companies which have previously broken automotive glass without a template and now wish to open up new business sections."
"With our champ'speed 2in1, we are combining the advantages of template-free breaking, namely the ability to flexibly work with high precision with the advantages of glass breaking with a template, namely extremely high precision in glass break as well as extraordinary quality", explains the Head of Sales who sold five of these cells to customers in China and Europe prior to the official introduction of the champ'speed 2in1 onto the market. "The interest is exceptionally high. With this new development, we have finally closed a gap in the market that has existed for a long time."