At the GlassBuild America show 2011 in Atlanta the Bystronic glass group will present its float glass cutting table speed'cut at stand 2147 in Hall B. Thanks to its modular concept, speed'cut is highly versatile and for example can be used for the cutting of architectural glass, during the preprocessing of glass for photovoltaic modules, during the primitive cutting for automotive glass or during the processing of special glasses.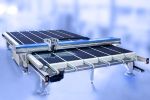 With a speed of up to 300 metres per minute and an acceleration of up to six metres per square second the machine guarantees a quick processing of cutting plans. The deployed measuring system offers the ultimate precision on the desired dimensions, therefore reducing potential grinding tolerances to a minimum. The cutting bridge is driven by modern linear technology that Bystronic glass has made available to the mass market for the first time.
The speed'cut with the honeycomb structure of its cutting bridge offers enormous energy saving potential. The bridge is significantly lighter than comparable elements in conventional structures and is extremely stable. The low weight of the cutting bridge leads to a 20 % reduction in energy use for acceleration and braking.
The speed'cut is excellent in terms of economy, flexibility and reliability and is characterised by a low operating expense. Furthermore the customers profit from a longstanding experience: Since 1964, Bystronic glass has been active in the development and production of technically-leading systems for fully automatic cutting, breaking, grinding, drilling and handling of flat glass.