In future, A+W software will control all of FSG´s commercial and production processes. The solution consists of a comprehensive ERP- and production solution which includes state-of-the-art capacity planning, shop floor data registration complete with monitoring system, and A+W's CAD system for flat glass, fully integrated in the order processing system.
FSG did not make the selection of their future software partner easy for themselves. The decision was made end of September after long negotiations and analyses in which external consultants were involved as well. That factor which tipped the scales in favour of A+W at the end of the day according to Managing Director Stefan Johansson, was the evident superiority of the A+W software in controlling glass processing businesses with a high degree of production complexity and the availability of a local installation and service team which guarantees competent service in Swedish.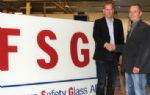 Caption: Stefan Johansson (right), Managing Director of Forserum Safety Glass AB, and Pontus Levin, Director of A+W Scandinavia, are looking forward to the common project. FSG plans to work with A+W software in the spring of 2012
.
FSG: The full program
It took Forserum Safety Glass AB, established in 2003, barely eight years to become one of the leading glass processing enterprises in Sweden. The company is centrally located between the major industrial hubs of Nässjö and Jönköping. Here in Smaland, home of Michel of Lönneberga and Ikea, FSG produce the entire spectre of modern IG and safety glass on a production area of 12.000 sqm: Heat-strengthened glass of up to 2800 x 6000 mm, laminated glass with multi-step processing, as part of IG units - a wide product range which requires highly efficient process control, from order entry up to shipping logistics.
Since 15 years, ALBAT+WIRSAM Scandinavia have been supplying the Scandinavian flat glass industry with customized products and comprehensive service in Swedish from their Halmstad offices. "Other firms", explains A+W Scandinavia Director Pontus Levin, "selling software for the glass industry in Scandinavia and the Baltic states have no personnel in Scandinavia and cannot provide service in national language. We can however - lots of satisfied customers are living proof".
A+W Scandinavia - this means four experienced IT specialists with a total of 30 years of experience in technical and commercial software. Service for this team does not only mean troubleshooting however but also consulting competence. "Service", states Anders Johansson, specialist for technical software, "for us means constant consulting for our customers, helping them to optimise their processes."