New Simatic MindApps for the open IoT operating system MindSphere
Machine Monitor: Transparency for status and performance of machines
Notifier: Message distributions from machines and access to alarm data
Performance Monitor: Availability and productivity of the manufacturing facility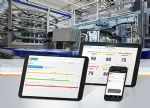 Siemens is launching a number of new apps concerning automation with Simatic systems. The new Simatic MindApps Machine Monitor, Notifier and Performance Monitor are special applications for MindSphere, the open IoT operating system from Siemens. These apps will enable users to make easy use of the advantages of cloud-based services and generate added value. The Simatic MindApps read out relevant data for analysis purposes, for example, from production machines or systems, then process them to create meaningful information, display them on dashboards, or use them for intelligent alerting and messaging.
The new Simatic Machine Monitor MindApp creates transparency regarding status or performance of machines and enables services to be optimized. For this purpose the Machine Monitor monitors the operational and maintenance status of machines in view of their productivity, servicing and availability. With the new Simatic Notifier MindApp the user can visualize messages, for instance when the KPIs Key Performance Indicators of a monitored machine are undershot, and can also access alarm data from any location. The new app enables messages from different systems and sources, for example from a Scada system or other Simatic MindApps, to be collated worldwide in a central location and also enables alarms to be issued, for instance individually to the mobile device of a specific service technician. User-definable views allow customization of access to alarms and messages individually for a particular user and alarms to be filtered according to specific criteria, for instance. The focus of the new Simatic Performance Monitor MindApp is on improving availability and productivity of manufacturing facilities through higher transparency. By calculating and visualizing machine and system KPIs, the app provides users with valuable guidance in making decisions when optimizing machines and systems and this will improve their efficiency. KPIs can be defined and calculated, visualized and analyzed including historical data, and alarm thresholds and user-specific cockpit views can be determined. The Simatic Fleet Manager and Visual Analyzer MindApps are already available. These apps help users not only to connect their machines and systems to MindSphere, they also help them to configure, read out and visualize the relevant data for analysis. Further apps are being developed and will be available to the user soon.
For further information, go to blogs.siemens.com/en/competitive-industries.html
For further information on Siemens at the Hannover Messe 2018, please see www.siemens.com/press/hm18 and www.siemens.com/hannovermesse
About Siemens
Siemens AG, Berlin and Munich is a global technology powerhouse that has stood for engineering excellence, innovation, quality, reliability and internationality for 170 years. The company is active around the globe, focusing on the areas of electrification, automation and digitalization. One of the world's largest producers of energy-efficient, resource-saving technologies, Siemens is a leading supplier of efficient power generation and power transmission solutions and a pioneer in infrastructure solutions as well as automation, drive and software solutions for industry. The company is also a leading provider of medical imaging equipment – such as computed tomography and magnetic resonance imaging systems – and a leader in laboratory diagnostics as well as clinical IT. In fiscal 2017, which ended on September 30, 2017, Siemens generated revenue of €83.0 billion and net income of €6.2 billion. At the end of September 2017, the company had around 377,000 employees worldwide. Further information is available on the Internet at www.siemens.com.