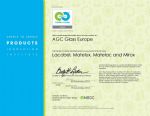 AGC Glass Europe obtuvo un nuevo certificado Cradle to Cradle Certified(CM) Silver, esta vez para sus principales gamas de vidrio decorativo: Lacobel, Matelac, Matelux y Mirox. En 2010, AGC ya fue la compañía pionera al convertirse en el primer productor de vidrio europeo en obtener un certificado Cradle to Cradle Certified(CM)* Silver para su vidrio float y sus revestimientos magnetrónicos. Estos éxitos coinciden con el enfoque integrado Going Green de AGC a través del cual la compañía se ha comprometido a desempeñar un papel primordial en la mejora continua de las prestaciones ecológicas de sus productos.
Amplia gama de soluciones ecológicas de vidrio para interiores
Ahora que sus principales gamas de vidrio decorativo ya forman parte de la cartera de productos Cradle to Cradle CertifiedCM Silver, AGC puede ofrecer a arquitectos, diseñadores y prescriptores un surtido aún más amplio de soluciones respetuosas con el medio ambiente.
Arquitectos y diseñadores se van uniendo cada vez más a la creciente comunidad de prescriptores y consumidores que piden productos verdaderamente sostenibles, evaluados de manera transparente y holística. De ahí que opten por los productos Cradle to Cradle CertifiedCM. Usando activamente estos productos y materiales, pueden obtener puntos LEED en la categoría de innovación lo cual mejora el ranking para la certificación de edificios verdes.
Enfoque Going Green de AGC
Estos logros coinciden totalmente con los esfuerzos medioambientales de AGC. Los productos de AGC se elaboran a base de materias primas ampliamente disponibles tales como arena, soda y dolomita. AGC también suele incorporar aproximadamente un 30% de vidrio reciclado en la producción de vidrio float. La ventaja del uso de chatarra de vidrio reciclada es que se derrite a temperaturas inferiores que las materias primas, o sea que requiere menos energía y causa menos emisiones.
La filosofía Cradle to Cradle coincide perfectamente con la política de Responsabilidad Social Empresarial (RSE) de AGC, que allana el camino para el enfoque Going Green de la compañía. De hecho, AGC ya tiene certificados sus sistemas de gestión en materia de medio ambiente y seguridad (ISO 14001 y OHSAS 18001) para la mayoría de sus plantas, y la compañía no deja de mejorar sus prestaciones en este terreno.
La certificación Cradle to Cradle es una prueba más del compromiso de AGC para garantizar a las futuras generaciones un planeta sano.
*Cradle to Cradle CertifiedCM es una marca de certificación autorizada por el Cradle to Cradle Products Innovation Institute.
Para más información sobre los logros medioambientales de AGC, consulte el informe medioambiental de la compañía en
www.agc-glass.eu
.
Para más información sobre cómo los productos de AGC pueden contribuir a la obtención de certificados verdes como LEED, visite
www.yourglass.com/tools
.