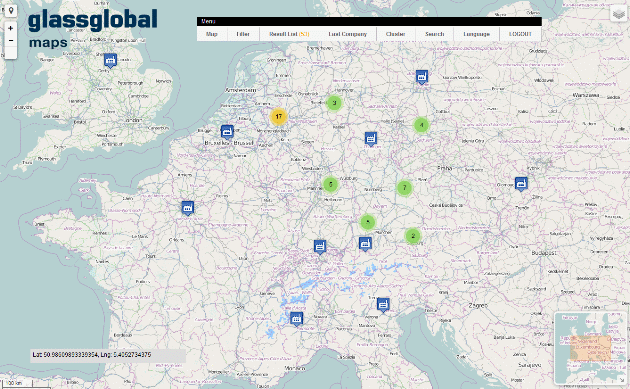 Ever wanted to know where your customers really are?
Zoom in the glass industry world map with companies in international glass industry on the basis of glassglobal.com company directory. Benefit of the search options by countries, places names or technology to boost your marketing. Organize efficient trips on the basis of our continuously updated world map.
Selection and display by category or keyword
Selection and display by multiple categories in combination with keywords such as company name, products or technology
Free zoomable display of the result as a google Maps with clickable icons
Icons lead to the detailed company profile with glassglobal.com with all functions such as email contact, downloads, categories or news.
Everyday research on glass industry now becomes a piece of cake, company listings are now updated with GPS coordinates. Locate your customers, suppliers, and sources to work organized and efficiently.
Members who are already subscribed to this service and have got a valid password combination just have to type their email address and password then click on "login".
Same applies for members who want to add this service to their existing password. In this case, the login guides to the subscription site.
If you are new at Glass Global, please click on "new member".
---
---
---