We at DIP-Tech cordially invite you to visit us at Vitrum 2011 in Milan, Italy, October 26-29, hall 24P, stand L19.
As always, our booth will be festooned with dynamic images enabled by our revolutionary technology. We will be featuring some of our newest products that make the previously impossible, possible. Our DIP SPECTRUM Digital Etch InkTM is our hot new technology, which creates a frosty, opaque effect on glass, a cost-effective, green solution to a messy, toxic, labor-intensive process.
The newest addition to our line of digital printers, the GlassJet JumboTM, will also be featured. It easily handles the largest commercially available panes, 6 x 3.3 meters! The Jumbo addresses the needs of glass processors worldwide to maintain a competitive edge by embracing the growing trend toward using massive panes as key elements in both interior and exterior design.
We will also proudly feature designs made possible by our DIP-Tech Xpert Pack (DXP), the first software that enables photorealistic images to be printed on glass.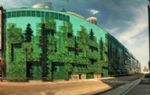 For free visitor´s registration at Vitrum 2011, please visit http://www.vitrum-milano.it/?lang=eng. To see the results of our creativity-freeing, cost-effective technologies, check out http://www.dip-tech.com/siteFiles/1/277/1555.asp.
We look forward to seeing you in Milan. Until then, ciao!