Revolutionary production technology for the manufacture of laminated glass

The Bystronic glass Technology Center Bystronic Armatec has launched a revolutionary pre-nip system for the manufacture of high quality laminated glasses of all kinds: the eco´convect is a completely new heating and press system that works with significantly reduced cycle times while being suitable also for shaped formats and multifunctional glasses. "Our innovative technology enables a homogeneous heat input, which is clear to see in the quality of the end product", explains Rupert Wellner, Product Manager at Bystronic Armatec, who was heavily involved in the development of the plant.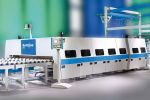 The eco´convect allows highly-reflective, coated glasses to be processed together with float glass as with strengthened glass and tempered glasses. The new core of the laminated glass production processes all common film types such as PVB, EVA and SentryGlas® plus (SGP) and easily creates complex glass constructions. At the end of January, a number of exclusively invited medium-sized and international glass processors were given the chance to be convinced about the innovative technology and its crystal clear results on-site in Gunzenhausen.
Side view of the eco´convect

"The response from the interested parties was unanimously positive", reports Bystronic Armatec Managing Director Bernd Bedner who is overjoyed that he was able to inspire potential customers with the new concept. The visitors were particularly impressed by the dual-circuit control of the convectional heating and the simple operation of the eco´convect which they described as "the future of laminated glass production".

Saving up to 50 percent on energy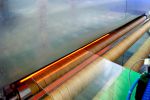 Rupert Wellner explains the basis of the immense technological superiority: "The eco'convect is part of a modular concept that offers individual, customer-specific solutions in various stages. In all cases, a dynamic high performance convection system takes care of the homogeneous glass heating." The most differing glass constructions are quickly and effectively heated through the dynamic heat transfer during the heating process. "Thanks to our innovative radiant heater technology, the eco'convect consumes up to 50 percent less energy than comparable machines", explains the Product Manager.
After heating, the press system creates an equally high, uniform pressure which therefore ensures an ideal ventilation of the glass-film-glass packages. The new profile of the presses is especially suitable for shaped formats and multifunctional glasses. Complex glass constructions can easily be reproduced via the Laminoptic formulation management system. "As a result, things that pose a challenge to other machines can be carried out quickly and easily on the eco´convect", says Rupert Wellner.