In summer 2011, the Mexican glass processor Templados del Centro S.A. de C.V. commissioned one of the most modern float glass cutting tables in the world in the form of the speed'cut from Bystronic glass. Glass plates up to 2,750 x 3,810 millimetres in size can be cut and have edges deleted on the cutting table. "The cutting table perfectly supplements our production and is a further important step towards market leadership for us – in Mexico initially", explains Gizeh Escobar, Founder and Managing Director of Templados.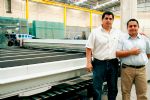 Market leadership was not yet an issue when the brothers Ing. Gizeh and Dr. Osiris Escobar founded the glass processing company Templados del Centro S.A. de C.V. in 2005. Back then, they were only able to fall back on little previous knowledge of successful company management in the glass sector.
In order to quickly gain the necessary knowledge and to become acquainted with all aspects of the glass industry, they were reliant upon external support. "Bystronic glass played an important role in doing so and helped us a great deal in getting where we are today", says Gizeh Escobar.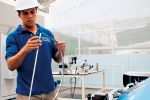 Bystronic glass machines as the benchmark for quality
The brothers invested in the construction of a 4,500 square metres production hall in Irapuato, a significant industry and trade centre in a region in the heart of Mexico otherwise dominated by agriculture. Despite a lack of experience, they decided to initially start with the production of laminated glass. "From the early days, I particularly remember the commitment and the magnificent advice provided by Bystronic glass", says the Managing Director and goes on to say: "We established contact with Bystronic glass because the Group has a good reputation in the sector and their machines are famous for being the benchmark when it comes to the high quality of capital goods. Ultimately, we obtained more than good machines; we actually obtained an excellent and long-lasting business relationship with qualified experts for glass processing machines and acute backup support."
Professional consultancy and first-class service
Gizeh Escobar emphasises that Templados could not have found better consultants than Bystronic glass and particularly appreciates the great professionalism of Bystronic glass – from the first pieces of advice concerning machine purchases through to subsequent customer service. "The service is excellent and provides us with the greatest and most extraordinary support that I can imagine", reports Gizeh Escobar. At the time, Templados decided
to purchase a line for the production of laminated glass that was erected in a U-shape in the new hall. Today, the medium-sized company that employs around 80 staff members also works with an insulating glass line complete with frame bending robot and desiccant filling station and various pieces of handling equipment from Bystronic glass.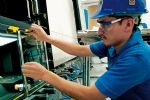 Flexibility as a recipe for success
Despite there being many competitors in Mexico and internationally, primarily in the neighbouring USA, Templados has still managed to find its place within the market with its products: they are the market leader in the region and are one of the leading glass processors in the country. Gizeh Escobar says that his recipe for success is the quality of his products and the flexibility in production: "In our daily work, we use reliable machines that process our glass in a premium manner, thus refining products. This guarantees our company stability and, only in doing so we are able to definitely comply with very tight delivery times. Each individual, highly developed part of the machines permits us to plan long-term with our glass processing machinery."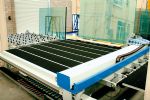 A further relevant point highlighted by the managing director is the modular structure of the units that provides Templados with the flexibility to modernise its equipment at all times. "As a result, we can produce a higher number of better quality products on the existing units without high additional investments", he explains. "The modular system solutions from Bystronic glass fulfil all of our requirements and the excellent results of our products confirm that we have only made correct investment decisions since 2005."