As it says in the title, do more with glass thanks to the Dip-Tech AR series. With this little glass printing beauty you can be looking a world of versatility, efficiency, and opportunities for your glass processing business. The AR series is the most versatile and advanced in-glass printer series available. Going far beyond the capabilities of traditional screen and UV digital glass printing machines, this series of digital ceramic printers bring you more choice, more flexibility, and more quality. Available in a variety of sizes, the series of digital in-glass printers fit almost any glass processor production floor and workflow. This superb combination means you can break free of the typical constraints of screen printing and UV digital printing – and take your business to new heights by breaking through that 'glass' ceiling.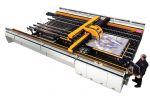 SPECIFICATIONS
• Print Resolution: up to 720 dpi.
• Maximum glass size: 2.8 x 6m (126 x 236.2 in).
• Ink-Dip-Tech Digital Ceramic Ink.
• Dip-Tech Premium Spectrum Inks.
• Ink Colours: Six basic colours, numerous pre mixed colours and digital mix for accurate colour matching, enabling a wide colour gamut.
• Glass thickness: 2 to 19 mm.
• Printing Speed: up to 60 square metre per hour (645 square foot per hour).
• Image format: All standard graphic formats including PDF, PS, EPS, Tiff, BMP, DXF, and JPEG.
• Dimensions: multiple configurations are possible.
SOFTWARE
DXP XL Software – Easy to use, image processing software that transforms standard image files into ready to print graphics files tuned for optimum, repeatable results on glass.
DIPTECH DIGITAL CERAMIC INKS
• Produce long lasting and vivid colours that are fused into the glass for unmatched durability.
• Designed for a variety of applications to enable printing custom designs virtually interior or exterior architectural or automotive glass.
• Wide variety of formulations available.
• Functional performance including energy efficiency, solar control, light diffusion and transmission.
• Helps architects meet their thermal, structural, sound and other targets.
• Offer flexibility needed for value engineering.
TECHNOLOGY HIGHS…
1.Gain new customers, by offering perfect reproductions in-glass of any multicolour photorealistic or graphic design.
2.Increase your glass sales by offering an alternative to other materials by simulating in glass the appearance of wood, marble, metal, ceramics and textures.
3.Innovative digital in-glass printer that uses ceramic inks – ideal for both external and internal applications.
4.Unmatched print quality – up to 720 dpi, with micro-drop precision.
5.Opacity control – controls the density of the printed layer.
6.Drop on demand – enables edge to edge printing.
7.Outstanding high throughput – six colour, single pass printing; selectable print modes.
8.Automated ink management – ink system optimises ink usage and facilitates routine maintenance.
9.Low production costs – requires only a single operator.
10.Drop Fixation – targeted heating of the glass before and after inkjetting to avoid drop gain to achieve higher definition.
11.In Line Dryer – real time drying of the printed glass.