Sao Paulo, Brazil. This year Siemens will be presenting its portfolio of products for the glass industry at the Glass South America Exhibition in Brazil for the first time.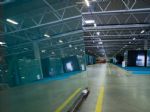 The company will be showcasing solutions for integrated plant-wide automation at the show, which runs from May 17 – 19, 2012. The Siemens "Plant-wide-Automation" portfolio covers every aspect of automation, from the complete integration of all machine and plant components through to industrial WHR (waste heat recovery) systems. Siemens will also be showcasing services for the analysis and efficiency improvement of existing production facilities through to life cycle management and modernization, such as energy efficiency solutions and sustainability programs (EES, Energy & Environmental Services), maintenance concepts to increase productivity (IPM, Integral Plant Maintenance) and condition monitoring to ensure fail-safe operation of production plant (CRM, Condition Monitoring & Reliability).
By presenting its portfolio at the show, Siemens aims to demonstrate to the South American glass industry ways in which it can combine cost-efficient, environmentally friendly glass manufacturing methods with a top quality product using innovative concepts. New production capacity is currently being created all over Brazil in a bid to address the growing demand for high quality glass. Particularly where new facilities are being constructed, special importance is attached to optimizing energy and cost efficiency. Siemens Industry has been involved with the glass industry for over 160 years. In recent years, it has been responsible for equipping some of the most significant float glass production plants, supplying complete energy distribution, drive technology, automation and instrumentation systems.
Siemens in the Glass Manufacturing www.siemens.com/glass