PRODUCTION MONITORING SOLUTIONS
Philippe Bierry discusses the latest solutions to monitor glass container production in real-time.
A glass manufacturer had recently a customer complaint because of one bird swing, found on a single bottle over three weeks of production. The glassmaker asked an essential question: how can we be warned in order to react immediately when a critical defect is found, knowing that a defected bottle is sent directly to the cullet?

This question induces two issues: one is the identification of the type of defect by inspection machines; the other is the alarm to be sent to the Operators.
Vertech' has been working on these issues in partnership with inspection equipment manufacturers and developed SILViewer, that displays the pictures from the machines to any users at the HE, CE and management. The first step is to visualize the defects seen by the machine. In a short future, an alarm will be sent when the machines are able to identify the critical level of the defects detected. Several manufacturers are developing this functionality to display the image of the defects. TIAMA is already able to send the images of the defects and their classification.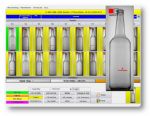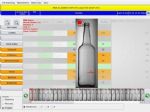 Improve hot end reaction time
The SIL is able to communicate with any inspection machine (as long as protocol is known) from IS machine to palletizers, including lab devices, and to display the losses and output in real time to Operators and Managers. So far, data used to be displayed in values or percentage. Vertech' is taking the new SIL version to the next level, offering the possibility to see the pictures of the defects in real time, and their position on the articles produced.

With Defect Viewer, SIL displays the pictures of the last bottles rejected by the video inspection machine connected. The user can select the view per cavity or per defect, and also view counts and curves by transparency.

SILViewer was first in operation in an Italian plant and developed with the Italian company Video Systems, manufacturing a large range of hollow glass quality control systems. Thanks to the high quality of the pictures sent from Video Systems inspection machines connected to SIL, the Hot End Operator can visualize the image of the defect, be it of aspect or Checks, zoom on the images and react instantly to the defect detected without getting the bottle itself, taking necessary corrective action.
To read more please click here.