The new LiSEC center of competence in Hausmening, Lower Austria, was opened on October 8th, 2015. The "Glass Forum", in which LiSEC invested approximately five million Euros, houses the latest LiSEC technologies for every stage in the processing of glass – from glass cutting and edge processing through to an elaborate glass logistics system and up to the production of insulating and laminated safety glass including tempering. In the Glass Forum, flat glass is processed under real-life production conditions. With its state-of-the-art production lines and software applications, the Glass Forum is used for research, test, training and demonstration purposes.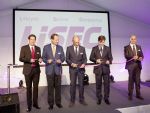 Official opening ceremony with Andreas Winter (Managing Director Glastech Produktions- und Verfahrenstechnik GmbH), Mag. Othmar Sailer (CEO LiSEC Group), Prof. Dr. Thomas Keppert (Chairman of the board of the Peter Lisec private Foundation), Mag. Christoph Neumayer (Secretary General of the Federation of Austrian Industry) and Peter Holzinger (CSO LiSEC Group).
Following the welcome speeches by CEO Mag. Othmar Sailer, Prof. Dr. Thomas Keppert, Chairman of the board of the Peter Lisec private Foundation and Mag. Christoph Neumayer, Secretary General of the Federation of Austrian Industry, the Glass Forum was officially opened on time at 9 a.m. The numerous attending international guests from business and politics visited the live glass production and, in presentations by experts, learnt about current topics such as automation, Industry 4.0 as well as quadruple insulating glass units with thin glass membranes. A factory tour of the mechanical engineering in Seitenstetten was provided in the afternoon.
"With our investment in the new center of competence "Glass Forum", we massively expand an essential distinguishing characteristic: We are the only machine manufacturer in the market that processes flat glass itself and that in a profitable way ", says Sailer. "We know and understand the problems and challenges of our customers because we have them ourselves. That is what we call operator's know-how." With this, LiSEC is at the same time setting an example in the region: Apart from the investment in Hausmening, LiSEC has planned investments in the amount of 16 million Euros at the production site in Seitenstetten for the next three years. Sailer: "We have committed ourselves to the location of Lower Austria, and this on a long-term basis."
About LiSEC
LiSEC with its head office in Hausmening/Amstetten is a globally operating group which has been offering innovative individual and overall solutions in the field of processing and finishing of flat glass for more than 50 years. The performance portfolio includes machines, automation solutions and services. In 2014, the group with its approximately 1400 employees and more than 20 locations generated an aggregate turnover of about 200 million Euros at an export rate of more than 90 percent. LiSEC develops and produces glass cutting and sorting systems, individual components and entire production lines for the production of insulating and laminated glass as well as machines for the processing of glass edges and tempering systems. With a reliable technology and intelligent automation solutions, LiSEC sets standards in terms of quality and technology and makes a substantial contribution to the success of its customers.