The Glassman America 2013 exhibition will showcase leading suppliers of equipment, technology and services used in the manufacture of all types of hollow and container glass and gives the glassmaking community the opportunity to meet and discuss issues and developments affecting the design, process and production of hollow and container glass.

Products and services on display include:

Ware transfer and lehr deadplates

Dura Temp will showcase its FortiPhy℠ coated ware transfer and lehr deadplates. The coating enhances plant productivity through increased pack rates, lower maintenance requirements, and improved glass quality. The coated plates provide an extended service life and offer excellent glass-on-metal as well as metal-on-metal wear protection against the conveyor chain.

For more information visit booth 47

Glass handling
Poco Graphite will display their newly developed holder with an Interior Locking System (ILS) that significantly reduces foreign object debris. The patent pending design eliminates screws that can vibrate out or become damaged by the blow head, causing premature loss of inserts.
For more information visit stand 15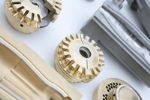 Glass moulds
Brother Mould was founded in 1999, and specializes in the manufacture of a wide range of glass moulds. The company boast a high level of competence in mould design, founding, machine works and checking.



For more information visit

booth 20
Your free exhibition entry badge will also give you access to the Glassman America 2013 conference featuring presentations from

Verallia North America

|

Glass Packaging Institute (GPI)

|

Vetropack

and many more - see the updated conference programme here

Please don´t hesitate to
contact us
if you have any questions at all.
In the meantime, we very much look forward to welcoming you to Vegas!
With kind regards,
Annie O´Brien
Marketing Executive
T: +44 (0)1737 855012
E:
annieobrien@quartzltd.com