VPInstruments introduces several smart improvements on the VPFlowScope® DP. The VPFlowScope DP is the ultimate measurement tool for wet compressed air flow measurements. We incorporated three enhancements to make the flow meter even more robust to wet conditions.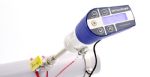 The probe of the instrument is now of an all laser welded stainless 316 design. Filters have been improved. Furthermore, drainage is enhanced by enlarged ports and tubes. With these new features the VPFlowScope DP has even a higher quality, longer lifetime and lower maintenance requirements.
The VPFlowScope DP with its unique design, enables you to take measurements in the discharge pipe of a compressor under 100% saturated conditions. The VPFlowScope DP is thereby the perfect device for e.g. compressor efficiency monitoring.
About VPInstruments
VPInstruments offers industrial customers easy insight in energy flows. We believe that industrial energy monitoring should be easy and effortless, to enable insight, savings and optimization. VPInstruments products are recommended by leading energy professionals worldwide and offer the most complete measurement solution for compressed air flow, gas flow and electric energy consumption. Our monitoring software VPVision can be used for all utilities, and enables you to see where, when and how much you can save. Our products can be found all over the world. We serve all industrial markets, for example; automotive, glass manufacturing, metal processing, food and beverage and consumer goods. We can also help your industry. Let us open your eyes and start saving energy.