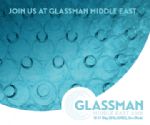 Glass manufacturers who have registered to attend include those from the UAE, Iran and India as well as further afield from the USA, France, Malaysia and South Africa. The Glassman Middle East event takes place on May 10 and 11 at ADNEC in Abu Dhabi, UAE – less than three weeks from now!
It focuses on the hollow, container, tableware and speciality glass sectors, unlike other events which focus on flat glass.
Companies who have registered to attend include Frigoglass, Arc International, Altajir Glass and Rak Ghani Glass; all from the UAE, Gallo Glass of the USA, France's SGD, Malaysia's JG Containers, India's HNG and Piramal Glass , South Africa's Nampak and Noritazah of Iran.
CLICK HERE TO REGISTER FOR THE EVENT
They will be joined by leading global container glass technology suppliers at the exhibition and conference, glassglobal Group has joined in to focus on glass industry worldwide. CM Project Ing and Eurotherm are among 12 companies to provide presentations at the FREE TO ATTEND conference. CM Project Ing CEO, Daniel Schippan, will talk about 'The Importance of Innovative and Modern Glass Plant Design' in a 20-minute presentation on day one.
Eurotherm's Rene Meuleman will provide a paper titled Recent improvements in electrical glass furnace boosting systems during day two.
Other papers during the two-day conference will be provided by the likes of tableware manufacturers Arc International and Noritazeh, as well as suppliers to the industry such as Tiama, Sefpro, Emmeti and Pneumofore.
The Glassman conference will run parallel to the popular Glassman exhibition.