Preferred journal of Glass Global, the November/December 2019 issue of Glass Worldwide is now available. To read selected articles free of charge and order the full paper and digital issues, visit www.glassworldwide.co.uk.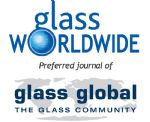 37 articles from 15 different countries include a series of exclusive interviews with figureheads at industry giants from the hollow, flat and speciality glass sectors. This bumper issue also features an expanded news section and provides truly global coverage of the latest technological innovations, expert views, market analysis and industry events:
FACTORY SPOTLIGHTS:
BA Glass: CEO Sandra Santos describes the group's multi-national activities and some of the achievements at its 12 plants in seven different countries.
Guardian Glass: Plant Manager Sandor Kis details the high performance laminated glass production line that was commissioned alongside the company's float plant in Hungary in 2018.
O-I: Michael Prechtl, Country Group Executive for North/Central Europe, discusses recent trends and priorities for Europe's leading glass container manufacturer.
Poulten & Graf: Chairman John Poulten provides an overview of this renowned manufacturer and supplier of laboratory products.
SPOTLIGHT:
Phoenix Award: Professor Alicia Durán received the 49th annual Phoenix Award at a ceremony in Madrid this October. Glass Worldwide was there.
FOCUS GERMANY:
BV Glas: market report covering the German flat, packaging, fibre and specialty glass sectors.
FOCUS SPAIN:
ANFEVI: analysis of the recent trends for Spain and Portugal.
SUPPLIER FOCUSES:
Grenzebach: Egbert Wenninger, Senior Vice President Business Unit Glass and Chairman of the VDMA Glass Forum, discusses the company's performance and range of high-tech production technology, flat glass market trends and opportunities to embrace digital resources to create multiple added value for customers.
HEGLA Group: details of the acquisition of a majority shareholding in TaiFin Glass Machinery Oy, the tempering furnace manufacturer based in Nokia, Finland.
MELTING TECHNOLOGY:
The second part of a Buyers Guide devoted to advances and opportunities for melting all types of glass. Part one of this feature was published in the September/October 2019 issue.
TECHNOLOGY:
10 technical articles covering Burners, Process Control, Quality Control, Raw Materials, Ware Handling and Forming.
ASSOCIATIONS:
Topical contributions from AIGMF, FEVE, SGT and VDMA covering issues affecting their members in the flat and hollow sectors.
EVENTS:

With Glass Worldwide as official events journal, we preview and review GlassPrint 2019, the GlassTrend seminar on big data and the 43rd ASEAN Glass Conference, and provide a comprehensive look forward to 2020 dates.