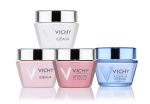 Gerresheimer is exhibiting its latest packaging designs for cosmetic products for the fourth time at MakeUp in Paris from June 09-10 at booth no. F8 in the Carrousel du Louvre.
"This is the fourth time we've been an exhibitor at MakeUp. Many of our customers and business partners are also here. This year we're presenting a comprehensive range of designs and decorative finishes for cosmetic products and fragrances," said Nicola Balena, Sales Director Moulded Glass Cosmetics at Gerresheimer.
The Gerresheimer Group has an innovative portfolio of packaging products and is an important partner to the worldwide fragrance, cosmetics and personal care industry with a strong positioning in the prestige and masstige segments.
Extravagantly designed flacons, jars and bottles, excellent advice and a comprehensive service have earned Gerresheimer an excellent reputation in the world of fragrances, cosmetics and skincare.
Further information
Gerresheimer Primary Packaging Glass Cosmetics
Gerresheimer Momignies