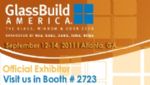 We at DIP-Tech cordially invite you to visit us at Glass Build America (GBA) in Atlanta, Georgia, September 12-14, at booth 2723.
Our booth will feature one of our latest massive GlassJet -enabled projects. Rockheim, Norway's rock and pop music museum, is a converted grain factory with a massive boxed-shaped roof addition composed of digitally printed glass panes featuring images of Norwegian album covers.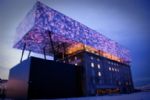 We are pleased to be able to again provide you with free admission to GBA. Simply go to its website, http://www.glassbuildamerica.com/, and enter Customer Guest Pass Code 11DIP.
For more information about GBA, please visit www.glassbuildamerica.com.
To see stunning images of Rockheim or read more about it, please visit our Gallery and News and Events pages at www.dip-tech.com.
See y'all in Atlanta!