Thousands of guests made sure to visit us at the Dip-Tech booth.
We launched the accelerated version of Dip-Tech's high-speed GPi Series printer, along with the new Dip-Tech GDT Dryer.
The new GPi printer, featuring high speed, higher resolution, and an internal re-circulation printing engine, and an inline GDT Dryer, was printing all day, every day, attracting a wide audience.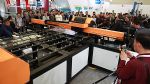 Visitors were "wowed" by the Dip-Tech Tour, a gorgeous booth display highlighting Dip-Tech print in life-like environments, starting at a busy airport and continuing to a luxurious hotel. The tour demonstrated a wide range of interior applications such as: office dividers, shower screens, slip resistance stairs, marble, wood, stone and brick surfaces for wall covers and table tops, active-glass with a hidden backlit pattern, 3D effects, and more. Most of the patterns are part of Dip-Tech's ready-to-print catalog, the Dip-Tech Design Collection.
A huge wall behind the printer displayed pictures of projects from around the world printed using Dip-Tech technology – providing a taste of the thousands of projects created with Dip-Tech Digital Ceramic In-Glass Printing solutions, which total over 95% of digital ceramic glass installations during the past 10 years.The show's visitors enjoyed the daily opportunity to hear first-hand success stories from different Dip-Tech customers, detailing how digital in-glass printing is the right solution for their needs, enabling them to address new markets and accelerate business growth.