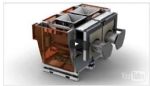 The EME-NEND® series has been extended with the introduction of a new version with a vibratory tube. This batch charger can be used both on a standard doghouse and on an IRD doghouse.
Due to the modular design, melt capacities up to 650 t/d on four machines (2xVL type 300 and 2xVR type 300) and / or 500 t/d on two machines (2xVL type 200 and 2xVR type 200) can be achieved. The fully modular concept offers many variations.
The machine allows for a completely sealed doghouse. Immediately after insertion of the batch the Pusher shapes piles, which are then pushed forward with a linear movement into the melting area of the furnace. On an interruption the pusher stops in front of the opening of the vibratory tube and reduces the introduction of heat into the vibratory tube.
The opportunity to adjust the conveying capacity of the vibratory tube and the frequency of the pusher allows optimization of the batch distribution on the glass surface.