AIA attendees invited to visit Dip-Tech in booth 3879 to experience firsthand the cutting-edge power of architectural glass, and consult on printed glass projects
For the first time ever, Dip-Tech, the world's leading provider of digital ceramic in-glass printing solutions, will be participating in the AIA Conference on Architecture – taking place in Orlando, Florida April 27-29. Guests of this premier expo are invited to visit Dip-Tech in booth #3879 to consult with Dip-Tech's expert architects and leading glass processors, learn more about the functional benefits of printed glass for exterior and interior architectural designs, and view stunning scaled-to-size glass models of real glass architecture projects.

AIA – The premier event for architects
The American Institute of Architects (AIA) Conference is a premier annual event that attracts thousands of architects and design professionals, with the chance to participate in varied workshops, seminars, and other events. In 2017, the conference is headlined by the theme of Anticipating a better tomorrow. More than 20,000 visitors and nearly 800 leading building product manufacturers expected to attend.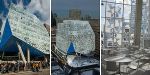 Student Learning Center at Ryerson University
Consult with Dip-Tech architectural masters in booth 3879
Dip-Tech invites AIA attendees to visit its booth #3879 to explore some of the most interesting ideas in architecture, and experience firsthand what's new, what's next, and all that's cutting-edge in architectural glass.
It is also a unique opportunity for architects and designers to consult in-person with Dip-Tech's architects – Niv Raz (Head of Architecture Division) and Eyal Porat (Architecture Manager). Both have extensive knowledge and experience in sustainable architecture, as well as digital printing for interior design. In addition to offering professional advice, they will present two scaled-to-size glass models of award-winning printed projects – the stunning Glass Farm in the Netherlands, and the glass façade enveloping the Student Learning Center at Ryerson University in Toronto, Canada.
"Incredible things can be achieved with digitally printed glass, taking architecture and design to new levels in terms of both attractiveness and sustainability," commented Arch. Niv Raz, Head of Architecture Division. "We at Dip-Tech are committed to helping inspire architects and designers, by working with them on their concepts and plans, connecting them with the right glass processors, and giving them the tools – like Dip-CMiX, Pattern Catalog and INTERIORI – to see their projects through."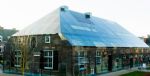 Glass Farm
Meet the professionals who make architectural glass
AIA Orlando is a unique opportunity to meet with glass processors, who are successfully working with Dip-Tech digitally printed glass. At the Dip-Tech booth, five glass processors will present their digitally printed glass samples and products produced on Dip-Tech printers, and share their tips for success.
"AIA is the premier show for the architectural industry and the perfect platform to showcase our pioneering technology," said Mr. Alon Lumbroso, CEO of Dip-Tech. "Having launched our New Era Technology in late 2016, enabling a groundbreaking resolution of up to 1410 dpi, we are extremely excited to be at AIA this year. We expect a great deal of interest from innovative architects keen to learn how digitally printed glass can be successfully implemented in their projects. From, varied internal design applications like kitchen backsplashes, shower doors, wall covers, and dividers, as well as impressive external facades that require high-end print quality, it will all be on display at the Dip-Tech booth."
"At Dip-Tech, we make it our business to be where our customers are, and with several of our customers, including Viracon and GGI, also exhibiting, AIA Orlando is definitely the right place to be," commented John Hickey, Director of Sales, North America. "Dip-Tech is continuing to expand in the North American market, and we are looking forward to meeting existing and new customers and to making the most of the AIA Conference opportunity to connect them with architects."