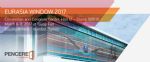 February 14, 2017 – Dip-Tech, the world's leading provider of digital ceramic in-glass printing solutions is pleased to announce its participation in Eurasia Window 2017, from March 8-11, 2017, at the Tüyap Istanbul Fair and Congress Center, Hall 12, Booth 1201 B.
Live demonstrations from the market and technology leader
In 2017, Dip-Tech continues to innovate with advanced models of printers and solutions for digital in-glass printing. At the Eurasia Window show, Dip-Tech's high-speed GPi printer will be demonstrated live at the Dip-Tech booth. The printer will print all day long during the show, providing visitors with first-hand view of its operations and print results.
In addition, Dip-Tech will present multiple functional applications in printed glass panels, including photorealistic, textures, and unique patterns, showcasing Dip-Tech's high-end capabilities for varied interior and exterior design applications.
Inspiration for business growth
At Eurasia Window, visitors to the Dip-Tech booth can view a wide range of inspired application designs. These stunning applications designs were created with the unique Dip-Tech complete solution. These stunning installations were created with the unique Dip-Tech complete solution – which includes printers, ceramic inks, design software, and professional support. Visitors can also meet with the Dip-Tech team and learn more about Dip-Tech sales tools for glaziers, architects, and interior designers that drive market penetration and business growth, including: Dip-CMiX, Dip-Energy, INTERIORI, and Pattern Catalog.
On the first day of the show, March 8, Dip-Tech's agent in Turkey, Mr. Kayhan Horasan will lead a session on "Practical propositions for effective usage of glass in architecture" as part of the "Glass for Architects and Designers" seminar. His presentation will cover waste-free cutting and processing of glass, safety issues, which type of glass to use where, and effective use of digitally printed glass in architecture.