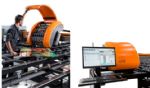 Dip-Tech, the world´s leading provider of digital ceramic in-glass printing solutions, will present its comprehensive technology and business support offering along with an extensive display of digitally printed glass samples at Vitrum 2015 this October. Dip-Tech, during a special booth event, will also present real-world experiences of glass processors who have grown their business with digital ceramic glass printing.
A Complete Technology Solution
Dip-Tech glass technology is a complete solution consisting of high-precision digital glass printers, long-lasting and vibrant ceramic inks, and easy to use image processing software. Developed together under one roof and in collaboration with some of the world's leading research institutions, Dip-Tech's holistic product line enables long-lasting glass durability, specialized ink functionality and enhanced design capabilities. Visitors can see glass printing firsthand at Dip-Tech's booth, Hall 22 Stand P11.
• The GP Series printers are expandable and upgradable
• Offers high printing quality with the widest color gamut in the industry
• Print multi-job printing in a single pass
NEW Design Tools and Collections
Dip-Tech's end-to-end solution includes tools and resources for glass processors to successfully win printed glass projects from their target market. At Vitrum 2015 Dip-Tech will introduce its new line of design tools and collections that will allow glass processors to support architects and developers at every stage of their projects.

AIA Europe Conference
Prior to Vitrum, on October 1-4, Dip-Tech along with Thiele Glas, a longtime customer and partner, will be presenting at the AIA Europe conference in Vienna, Austria. The presentation, entitled, Functional Design in Glass, will introduce architects to Digital Ceramic Glass Printing, and inform them of its applications and benefits. For more information visit: http://aiaeurope.org/events/2015/Vienna/index.html
About Dip-Tech
Dip-Tech is the world's leading provider of digital in-glass printing solutions that combine the durability of ceramic inks with the versatility and quality of digital printing. With more than a decade of market experience, Dip-Tech provides an unmatched and field-proven solution for all exterior and interior flat glass applications spanning a full range of artistic and functional requirements.