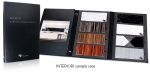 With its ready-to-print glass designs and printed glass catalog, Dip-Tech INTERIORI significantly expands business opportunities for glass processors
Dip-Tech, the world's leading provider of digital ceramic in-glass printing solutions, today released the new INTERIORI – a powerful business development tool for glass processors with Dip-Tech digital in-glass printers.
Carefully developed by a team of architects and designers based on market demand, INTERIORI is a set of 52 ready-to-print designs that can be used to replicate the appearance of different surfaces using digitally printed glass. It comes together with a printed brochure and digitally printed glass samples. This complete package helps glass processors inspire architects and designers – giving them ideas for implementation and a clear sense of how their final product will look.
"INTERIORI brings tremendous value to glass processors, giving them a high-impact tool for communicating the potential of digitally printed glass to architects and designers" said Mr. Alon Lumbroso, CEO of Dip-Tech.