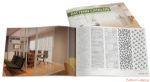 New Dip-Tech design resource provides unique patterns for creative digital ceramic in-glass printing
Dip-Tech, the world's leading provider of digital ceramic in-glass printing solutions, today introduced the Dip-Tech Pattern Catalog — a new design resource with a wide range of patterns for graphic designers to use in designing for digital glass print. In addition to decorative use and appeal, these patterns can achieve effects for shading, privacy, and other glass printing applications.
Trendy patterns for endless possibilities
The Dip-Tech Pattern Catalog includes a digital PDF flip catalog with a Glass Atlas of the different pattern layouts, and an Adobe Illustrator swatch album.
The 100 copyright-free vector patterns included in the catalog are divided into five design categories: oriental, abstract, organic, geometric, and fusion. The patterns can be scaled to any size while maintaining high print quality. They can be printed with CMiX (premix color guide) or digital mix colors, on their own or over photorealistic elements.
Valuable marketing tool
Glass processors can brand the Dip-Tech Pattern Catalog with their own logos and branding language, and offer it as a marketing tool to architects, interior designers, and other customers looking for imaginative and original designs.
"We created the new Dip-Tech Pattern Catalog using a unique process suited to Dip-Tech ceramic in-glass inks and printing," said Mr. Alon Lumbroso, CEO of Dip-Tech.
"This highly-valuable tool is part of our efforts to promote decorative glass printing, and assist our customers in driving creativity and opening new opportunities."

With so many unique patterns at their fingertips, glass processors can use the designs in the Dip-Tech Pattern Catalog to offer endless combinations of patterns, colors, positive and negative techniques, transparency and opacity, and more.
The Dip-Tech Pattern Catalog is now available for order.