Extended safety functions for Sinamics S210
New firmware version V5.1 SP1 provides comprehensive protection of machine functions
Encoders of Simotics S-1FK2 motors with new 22-bit resolution
Siemens extends the Sinamics S210 servo drive system to include the Extended Safety Integrated functions. The existing basic functions such as Safe Torque Off (STO), Safe Stop 1 (SS1) and Safe Brake Control (SBC) are now complemented by extended functions provided by the new firmware versions V5.1 SP1: Safe Stop 2 (SS2), Safe Operating Stop (SOS), Safely-Limited Speed (SLS), Safe Speed Monitor (SSM), Safe Direction (SDI), and Safe Brake Test (SBT). All of these functions ensure machine functions are provided with comprehensive protection. Also the encoders of the Simotics S-1FK2 motors have been updated, to support the new Extended Safety functions and provide an encoder resolution of 22 bits. The motors fitted with the new encoders can be used as replacement parts for previous models. Typical uses for the new drive system include in particular packaging machines, handling applications such as Pick & Place, wood and ceramic processing as well as digital printing.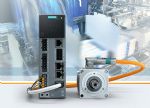 The Extended Safety functions are activated by a license in the converter and are triggered by the higher-level Simatic S7-1500F and/or S7-1500 TF controller via Profisafe. STO and SS1 are activated by terminals and/or Profisafe. The Sinamics S210 servo drive system consists of a converter and the specially developed Simotics S-1FK2 servomotors, which are available in five performance classes from 50 to 750 watts. The motors are connected to the converters using a One Cable Connection (OCC). The Sinamics S210 is particularly suited for the dynamic control of motor axes, making sure that low loads can be moved particularly dynamically.
The converter is activated via a web server and one-button tuning. The interaction between servomotors, quick sampling and smart control algorithms for the converters, a high-quality encoder system, low rotor inertia and high overload capacity provide this drive system with high dynamics and exceptional accuracy.
For further information on Sinamics S210, please see www.siemens.com/sinamics-S210
For further information on Siemens at the Hannover Messe 2018, please see www.siemens.com/hannover-messe and www.siemens.com/press/hm18
Siemens AG (Berlin and Munich) is a global technology powerhouse that has stood for engineering excellence, innovation, quality, reliability and internationality for 170 years. The company is active around the globe, focusing on the areas of electrification, automation and digitalization. One of the world's largest producers of energy-efficient, resource-saving technologies, Siemens is a leading supplier of efficient power generation and power transmission solutions and a pioneer in infrastructure solutions as well as automation, drive and software solutions for industry. The company is also a leading provider of medical imaging equipment – such as computed tomography and magnetic resonance imaging systems – and a leader in laboratory diagnostics as well as clinical IT. In fiscal 2017, which ended on September 30, 2017, Siemens generated revenue of €83.0 billion and net income of €6.2 billion. At the end of September 2017, the company had around 377,000 employees worldwide. Further information is available on the Internet at www.siemens.com.