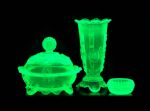 Yellow-green, fluorescent, and slightly radioactive, vaseline glass enjoyed great popularity in the latter part of the 19th century up until WWII. The reason for its abrupt disappearance from the consumer market is historically understandable: vaseline glass's unique color comes from small amounts of uranium oxide. The term "vaseline glass" originates from its distinctive yellow-green hue, which is similar in appearance to greasy Vaseline jelly. Like many uranium-containing minerals, it also glows a bright green color when exposed to longwave ultraviolet light. The accompanying photograph shows a small collection of vaseline glass illuminated by UV light.
Like the uranium in vaseline glass, small amounts of metallic compounds are also responsible for the colors of more common types of glass. Amber bottle glass relies on iron and sulfur for its distinctive hue, while the various shades of green come from chromium oxide. Brilliant blue wine bottles are colored by cobalt.The SEM micrograph above shows a small chip of vaseline glass slag in back-scattered electron mode. Because heavier elements reflect more electrons than lighter elements, a cord of uranium-rich glass shows up as a bright streak in the image. The EDX spectrum of the cord confirms the presence of uranium (red arrow), among other glass forming elements.
Although a uranium-containing candy dish might sound like a health hazard, incorporating heavy metals into glass is safe due to the relative inert nature of glass and its stable structure. Large heavy metal ions have virtually no mobility inside a silica glass network, which locks them tightly in place. In fact, high-level nuclear waste is made into special glasses before being buried in a process called vitrification. These glasses are designed to trap radioactive material for thousands of years until it can decay into less harmful isotopes. Luckily for consumers, the stability of glass also means that the chromium in millions of green bottles will not be leaching into their beer any time soon.

Although AGR hasn't yet found uranium in our customers' glass, we have applied a variety of analytical techniques to determine fracture causes, contamination sources, and cosmetic defects in products ranging from lamp globes to champagne bottles. Contact us if you need assistance with your glass problem.
We know glass – even the weird kinds.