As Siemens supports customers on their path towards digitalizing production, digital services provide new opportunities to sustainably improve productivity. By networking machines and installing suitable software, manufacturers can create the transparency needed as a basis for Data and Process Analysis, a service provided by Siemens to help customers analyze and optimize their production. By offering its Data and Process Analysis service, Siemens is providing support for customers aiming to implement the Sinumerik Integrate (SI) modules Analyze MyPerformance (AMP) and/or Analyze MyCondition (AMC). As part of the offered service, the SI modules are adapted over a fixed period of time in close cooperation between Siemens advisors and customers to suit the specific production process. Benefits for the customer include improved productivity, optimum deployment of the SI modules, and prevention of unwelcome surprises such as unscheduled machine downtime.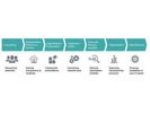 The Data and Process Analysis services involve analysis of the AMP and/or AMC data, and the definition of measures to optimize machine utilization. Implementation takes place over a period of three years, with a total time input of ten days. Precise dates are agreed in close cooperation with the user. Improvements can be achieved iteratively and on a step-by-step basis. The services can be provided either on site or using remote access.
Optimum module utilization for smooth production
A fundamental component of the Data and Process Analysis service is the Service Logbook in which every analysis and its outcomes, resulting actions and their effects, implementation and other important events are documented. The main customer benefits to derive from the Siemens SI module utilization services include improved capacity utilization of individual producing machines, optimum use of the module functions and the best possible coordination between plant operators and machines. These services also help prevent unscheduled downtime and allow the early detection of potential bottlenecks in the production process.
Captions
Motion Control Services supports customers aiming to digitalize their machine tools and optimize their production.
With its Data and Process Analysis service, Siemens supports users of Sinumerik Integrate (SI) aiming to open up the optimization potential of the Analyze MyPerformance (AMP) and/or Analyze MyCondition (AMC) SI modules for improved plant productivity.