Chasing Transparency - Merck and Elementa
Climate change is one of the greatest challenges our global communities currently face, requiring a drastic reduction in carbon emissions to slow its effects. Buildings, which account for more than 30% of global carbon emissions, are a key component of the climate change mitigation solution and many cities around the world have committed to minimising the environmental impact of their new and existing building stock.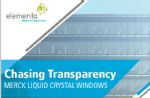 Carbon performance, however, is not the only consideration for building designers. With a renewed focus on occupants, buildings are now expected to enhance quality of life, improving health, wellbeing and productivity, both at home and in the workplace. The industry is now tasked with delivering efficient, low-carbon buildings that maintain a high level of occupant comfort.
The building's facade, which provides an interface between the indoor and outdoor environments, has become a crucial factor in the performance of today's buildings. There are well-established dichotomies of facade design, including the tensions between daylight penetration, solar control, glare mitigation and thermal comfort. The continuing architectural trend towards highly glazed buildings has spurred the advancement of facade technologies that seek to resolve these tensions while maximising facade transparency.
One such technology is dynamic, or "switchable" glazing, which has been ranked as #61 in the "100 solutions to reverse climate change", according to the recent publication Drawdown. By modulating the transmittance of light and thermal energy, dynamic glazing is able to provide a higher level of flexibility than static solutions, such as fixed-transmittance glazing with external shading devices. This flexibility derives from their capacity to adjust their optical properties in response to different types of stimuli, such as glass temperature in the case of thermochromic glazing, or voltage in the case of electrochromic glazing.
Dynamic glazing has increased in popularity in recent years, but is not without its limitations. These limitations have included slow switching speeds, where transitions may take up to 30 minutes, and colour rendering that produces an unwelcome yellow or blue effect.
Merck Window Technologies B.V. has recently developed a dynamic glass product that uses liquid crystal technology to address these limitations and provide additional benefits. This report presents a joint research project between Elementa Consulting and Merck Window Technologies B.V., exploring the Merck Liquid Crystal Window (LCW) and its performance in relation to facade design challenges. Where possible, Merck's LCW is compared with established facade design solutions, such as closed-cavity systems, fixed external shading and solar control coatings, to establish how the technology fits within the industry's palette of options.
The report is presented in two chapters; the first chapter contains a collection of visual studies, while the second chapter focuses on integrated facade performance, including thermal comfort, energy efficiency and daylight availability.
To read the full report, please click here
13.02.2018, Merck Liquid Crystal Windows