Since the 19th century, Brook Green has attracted numerous commercial enterprises due to its proximity to one of West London's main trafficlinks. The industrial architecture of the late 19th century to this day characterises the area , which is increasingly being discovered by the modern business world. The old industrial buildings of Osram or J. Lyons & Co are being revitalised and new usages added. The listed building at 184 Shepherds Bush Road is a striking exemplar of this trend. Under the guidance of ColladoCollins Architects, it was transformed from a motor garage and service depot with showroom, into a modern office building, retaining its industrial charm. The design proposal includes a three storey extension on top of the existing building within a new glass vaulted roof that is reminiscent of the glass palaces of the 19th century.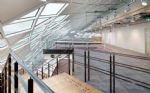 BG-Interior-5 ©Eugene Codjoe-UrbanSerenity Photography/SCHOLLGLAS
The intent of the architects was to preserve the character of the building, both internally and externally, by keeping any necessary building works to the listed building to a minimum. Despite its vast expanse (60 metres long, 30 metres wide and 14 metres high), the vault appears transparent and lightweight. The vault is formed by vertical tubular steel members which taper towards the top. Together with the diagonal tubes, the lattice structure forms a distinct diamond shaped glazed roof.
 
In order to minimise solar gain, 60% of the roof glazing has been designed to be opaque. To ensure a consistent design throughout the roof, the architects and roof contractor developed the solid glazing in cooperation with SCHOLLGLAS. The glazing consists of an outer surface made of the robust tempered safety glass GEWE®-dur-H, which features a completely silkscreened surface. This is then glued to an insulating panel. Powder-coated sheet metal is used to seal the internal face of the panel.

The arrangement of these solid panels is based on a building physics calculation. They appear to be distributed randomly, but become more dense towards the top and cover the entire surface in the uppermost area. The proportion of solid glazing panels is higher towards the south and on the side facing the neighbouring building due to either increased solar gain or the for retention of privacy.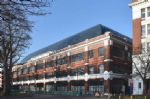 BG Interior 1 ©Eugene Codjoe-UrbanSerenity Photography/SCHOLLGLAS

The planners chose GEWE-therm® multi insulating glass panels with a neutral solar control coating and modern safety properties for the transparent areas. The units are configured with GEWE®-dur tempered safety glass and GEWE®-safe laminated safety glass, which is very well suited for overhead glazing and facades. On the outside, the thermal insulating glass is also fully imprinted with a dot grid. Together with the solar control coating, this prevents too much heat influx to the interior and provides a uniform look with the solid elements.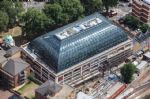 0v9A2704 ©se-austria GmbH & Co. KG

One particular challenge was the different formats of solids and insulating glass panels. Were the vaulted roof to be divided into four quarters along the longitudinal and transverse axes, then no two diamond shaped panels would be equal in size or proportion within any one quarter of the roof. The same would apply to the triangular surfaces. With very high logistical expertise, SCHOLLGLAS made sure that the 2,670 panels and solids were delivered to the construction site in correct sequence and within programme.

The well regulated natural lighting of the building and impressive view over the city creates an exceptional working environment. The striking multifaceted diamond-like vault is impressive during the day and sparkles radiantly at night.

Object Brook Green, 184 Shepherds Bush Road, London/GB
Client McLaren Construction, London/GB
Architect ColladoCollins Architects, London/GB
Façade se-austria GmbH & Co. KG, Schörfling, AT
Glass GEWE-therm® multi, GEWE®-dur-H und GEWE®-safe / GEWE®-tvg
Glass Supplier Schollglas Sachsen GmbH Nossen/OT Heynitz/GER