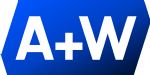 A+W´s new software generation, A+W Business and A+W Production, has already been implemented and is successfully run by selected customers of A+W.
For VITRUM, A+W have announced the launch of yet another new system: A+W Business Pro, an ERP system with integrated tools for production planning and management for small and medium-sized companies.
Small glazing companies and dealers need an integrated software tool which can handle the processes in the office as well as on the shop floor in an integrated, user-friendly, and easily accessible way.
A+W Business Pro is the integrated solution for small and medium-sized companies in the flat glass processing industry. It is based on the widest-spread ERP system in the industry, A+W Business, which has been completed by a fully integrated production planning system. By means of this "one-click production" solution, the whole process can be controlled by just a few mouse-clicks, from batch creation to production release. At Vitrum, a preliminary version of the route planning supplement will also be presented for the first time where even the production optimization is determined by the optimum route and the resulting loading sequence of the trucks.
Thanks to its easy installation and the little amount of configuration work required based on partly predefined master data, the set-up time is quite short.
As yet another highlight, A+W gives a first glimpse of the A+W Defect Optimizer which is used to-gether with jumbo quality scanners in the cutting area. As it were, this defects optimizer optimizes "around the detected error (scratches, inclusions, etc.)", which means that it tries to position the defects in areas of waste where possible. In most cases it is therefore possible to prevent the yield being impeded by single defects.
Come and see A+W at VITRUM, hall 13P, booth M29!