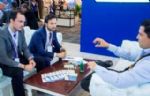 More than 80 international hollow and container glass manufacturing equipment suppliers have signed up for next month's Glassman South America event. The companies, who all supply machinery for all aspects of the container glass making process, are all keen to do business with Argentina and South American glass manufacturers. These machinery suppliers regard Argentina as a growing market. They believe the combination of the expansion of Argentina's glass manufacturers coupled with the new Argentinian President's more international outlook, means Argentina is the place to do business now.
Argentina itself is a hub of container glassmaking. The country's largest domestic container glass manufacturer is Cattorini, which has glassmaking sites in Buenos Aires, Mendoza and San Juan.
The country's capital, Buenos Aires, is also home to Rigolleau, Argentina's oldest glass manufacturer with its origins dating to the 1880s. The company is based in Berazategui, about a 30-minute drive from the centre of the capital and employs 900 people.
Also based in the capital is Durax, a hollow and tableware glass manufacturer that came in to being in 2002 when a government cooperative reopened a closed factory.
Global groups O-I and Verallia also have manufacturing sites outside of Buenos Aires, in Rosario and the wine-making region of Mendoza. O-I is set to embark on a furnace rebuild this month while Verallia inaugurated its third furnace in 2012.
REGISTERED PARTICIPANTS
Domestic companies who have pre-registered to visit the show include delegations from Cattorini, Verallia and O-I as well as international visitors such as O-I Brazil, Verallia Brazil and Gallo Glass of the USA.
With hundreds of industry professionals already registered, pre-register here for your pass now.
OVER 80 COMPANIES HAVE SIGNED UP TO EXHIBIT

There are more than 80 companies who have confirmed their participation so far are all internationally leading suppliers to the hollow and container glassmaking industry. The majority come from Europe and North America while Latin America is also heavily represented.

European suppliers include forming specialists Heye International and Bottero, automation groups futronic and Glass Service, lehr makers Vidromecanica and Pennekamp, furnace suppliers Teco, FIC UK, Sorg, Electroglass and Horn, batch plant specialists EME and Zippe, refractories companies such as SIGMA, PSR and RHI. American companies represented include Duratemp, Quantum, Ramsey Chain, Specialty Rondot while Latin American companies who have booked booths include MAVSA, Heat Up Latin America and Abbamat.

View the Exhibitor List here

To secure your participation at Glassman South America, please contact the organising team:
Ken Clark,
Sales Director
T: +44 (0)1737 855 117
E: kenclark@quartzltd.com
Greg Morris,
Editor, Glass International
T: +44 (0)1737 855 132
E: gregmorris@quartzltd.com
Sally Love,
Assistant Editor, Glass International
T: +44 (0)1737 855 154
E: sallylove@quartzltd.com
Esme Horn,
Coordinator,
T: +44 (0)1737 855 136
E: esmehorn@quartzltd.com