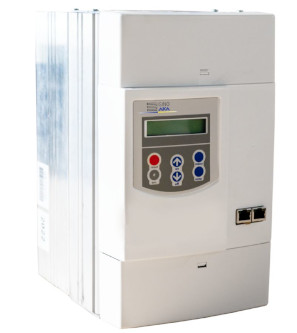 AKA Power Control: a long-term partner of the Glass Industry.
The AKGrad32 SCR Power Controller ranges from 60A to 2500A up to 690VAC at 47 to 63Hz with Profibus and Ethernet. AKA upgrades your Alstom Cegelec Gradathyr with the AKGrad32 control card: cost-effective Cold Repair Solution.
In order to simplify stocks, ordering and maintenance management, the whole range uses a single 32bits-Processor-based powerful electronic Control Card with a single firmware for all applications: tin bath downstream transformer with SiC, lehr heaters, boosting electrodes, etc. The AKGrad32 SCR Power Controller performs a well-balanced regulation of the power of the heaters connected to its Thyristors by switching ON or OFF every half cycle (10ms) of the AC power line according to the setpoint defined by your process up to 0.1kW accuracy.
This patented "real-time Fast Full Wave" firing optimizes the life of the heaters according to the specifications of high quality refractory manufacturers. Kanthal ® specifies Full Wave firing with duty cycle below 100ms for its SiC heaters while AKA's duty cycle is two times shorter: for instance, the AKGrad32 performs a 60% setpoint with 20ms OFF and 30ms ON.
http://www.aka-automatismes.com/fr/
AKGrad32 Firing Modes
PA firing. 1 or 3 phases controller. Permanent phase angle with current limitation with or without downstream transformer,
QR firing: 1, 2 or 3 phases controller. Permanent Fast Full Wave with phase angle soft-start with or without downstream transformer.
Cold Repair Expertise: upgrade of existing Gradathyr Controllers

Our powerful Control Card has 99% compatibility with previous Alstom ® / Cegelec ® Gradathyr and AKGrad Thyristor Power Controllers. To replace your Gradathyr Control Card with our state-of-the-art AKGrad32 Control Card (99% Compatibility), AKA:
Complies with your electrical panels (Gradathyr wirings have 100% compatibility with AKGrad32 I/O Terminals),
Includes reliable 100Mbs Modbus/TCP Ethernet or 12Mbs Profibus-DP (S7) or Ethernet/IP EIP communication for DCS / PLC Fieldbus,
Expertises the downstream transformers of your tin bath roof,
Validates the Gradathyr Thyristor heatsink for the next start-up,
Offers plug & play power saving "Synchro" feature to suppress Global Current peaks and Reactive Power losses (gen set).
AKGrad32 Specifications: Powerful Power Regulator controlled with reliable Fieldbus

The 32bits DSP of the AKGrad32 measures and calculates true RMS mains voltage V, current A, power kW and resistor OHM for each phase. This powerful measurement system enables:
Patented soft-start firing for any inductive downstream transformer which avoid over current peaks even in cost saving 2-Phases Control Three Phase Circuit.
Unique integrated power saving "SYNCHRO" feature for real-time load management and energy bill reduction.
Very high precision closed loop kW-%-I²-U² regulation with partial/total load failure diagnosis on each phase.
Instantaneous adaption to voltage variations, over currents due to short circuit to ground or load surge.
Phase-Angle soft start for heaters with high cold/hot variations with current limit feature.
It offers the following features as standard:
5 digital inputs,
3 output relays,
3 analog inputs mA/V,
3 analog outputs mA/V,
Modbus RS232/485/422 connection,
It offers the following options:
Profibus-DP and/or Modbus-Ethernet,
Ethernet/IP and /or Profinet I/O,
Modbus RS485 4" or 7" HMI panel operator.