WENDT at Glasstec 2006, Düsseldorf, in Hall 15 booth E13
We are pleased to present three new product lines for grinding, drilling and chamfering of Flat Glass. A drilling-chamfering tool "Black Star" to drill and chamfer Architectural glass, metalbonded diamond cup wheels "Track 2" for flat glass vertical edge grinding machines and the new "Monobloc" drill specifically designed for Automotive glass.
WENDT will be exhibiting at Glasstec in Düsseldorf in the Hall 15 booth 13 under the motto "WENDT a passion to move things" and these three new product lines will take pride of place.
The new patented drilling chamfering tool Black Star , will be pre-sented as the new revolution in drilling and chamfering operation for flat glass construction. On double head drilling machines, this tool is able to increase your productivity. Directly developed from our patented CNC-chamfering tool the "TR120D"the Black Star is made in the same configuration, which allows you to have the same in-feed for the chamfering operation as for drilling; a revolution ! Until now, with the standard combi version, the user had either to adapt both drilling and chamfering tool to the low chamfering speed, or where possible to have two in-feed speeds one for the drilling and one for the chamfering operation. With the Black Star the user will be able to drastically increase the chamfering speed to the drilling speed.
Example: for 8 mm glass thickness, 13 mm drilling hole, 3.5 mm chamfering depth, the in-feed is 1.5 mm/sec for drilling and chamfering. Only because of the possibility of using this in-feed for both operations the user could reduce the complete cycle time from 15 sec to 5 sec ! This means triple the productivity ! On top of that, as the Black Star is made in the same configuration as our "TR120D", the user will also have the benefit of noise reduction during operation, an excellent cutting effect, higher lifetime and lower power requirement.
At the same time we also present the new metal bonded cup wheel pro-gram Track 2 available up to 150 mm diameter, with a diamond ring width from 5 to 15 mm and 6 to 10 mm diamond height. This program has been specially developed for vertical grinding machines which can be found at all flat glass grinding companies. This program gives an excellent quality and grinding performance at a very attractive price. Track 2 is made with a diamond specification which is very free cutting and able to adapt itself very quickly to glass thickness changes. Track 2 is available in continuous and segmented rim versions depending on requirements.
Last but not least our third innovation is the development and evolution of the Monobloc drilling program, after some years of research and an excellent welcome for this product in some large end users, WENDT is very proud of our new Monobloc drill for the Automotive glass market. As this market is really focused on cost/piece, WENDT has realized a specification allowing very high lifetime ("probably the best on the market" as some customers have said) and in-feed speeds such as 2 mm/sec. Beside achieving the high drilling quality required on this market, customers have also been very pleasantly surprised by the easy start of our drill; and the short time to achieve the max in-feed speed required by the user. This product is available for any make of machine supplied on the Automotive market.
Our Monobloc , made on a stainless steel body and with an excellent diamond specification is already proving successful in Europe, the Middle East, the USA and Asia, the results obtained are giving WENDT an excellent opportunity for future growth in this very tough market.
---
Logo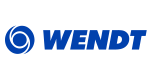 ---
Menue
---
---
---
---
Contact Info
If you want to submit a message or have further questions about the offered machinery, equipment or services, please click "Enter Contact Form..." to submit your message.
---