Umicore AG & Co. KG, Platinum Engineered Materials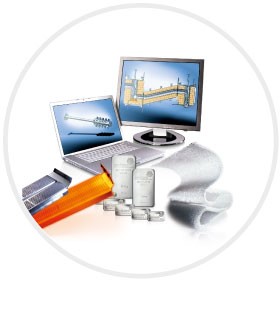 We are a global technology leader for either cast or FKS® Platinum materials based comprehensive, tailor-made, and smart system solutions. We support key players in major industries to reach the best possible performance with their production processes regarding the platinum component. In this context we serve comprehensive, tailor-made and smart solutions for special & fiber glass melting & forming.
Our unique business approach (PEM's Process Excellence model) focuses on our promise to achieve sustainable added value regarding the platinum component before, during and after use in our customers' production process. Our customers' direct use shows in:
High savings achieved by lower total costs
Smart solutions, which contribute to increase their competitiveness
Long-term security achieved by continuous reduction of risk
Our philosophy of closed loops, complementary competencies and resource-saving processes reflects in our Life Cycle Management Approach. This systemic approach shows how we use our technological competencies in terms of Material, Engineering and Manufacturing to provide single-source and smart solutions to our customers. Constant innovation, applying holistic views and considering our customers as strong partners help us to achieve sustainable and impressing results in optimizing their production processes.
Company Profile:
Umicore is a global materials technology group. It focuses on application areas where its expertise in materials science, chemistry and metallurgy makes a real difference. Its activities are centred on four business areas: Catalysis, Energy Materials, Performance Materials and Recycling. Each business area is divided into market-focused business units offering materials and solutions that are at the cutting edge of new technological developments and essential to everyday life.
Umicore generates the majority of its revenues and dedicates most of its R&D efforts to clean technologies, such as emission control catalysts, materials for rechargeable batteries and photovoltaics, fuel cells, and recycling. Umicore's overriding goal of sustainable value creation is based on an ambition to develop, produce and recycle materials in a way that fulfils its mission: materials for a better life.
The Umicore Group has industrial operations on all continents and serves a global customer base; it generated a turnover of € 14.5 billion (€ 2.3 billion excluding metal) in 2011 and currently employs some 14,600 people.

---
Address
Company
Umicore AG & Co. KG
Platinum Engineered Materials
Address
Rodenbacher Chaussee 4
63457 Hanau-Wolfgang
PoBox 1351
Country
Germany
Phone
0049 6181 595287
Fax
0049 6181 595204
Email
Email Contact
Internet
www.platinum-engineered-materials.com
Employees
14.600 (Umicore group), 200 (Umicore PEM)
Certificates
ISO 9001; ISO 14001; ISO 50001
Associations
Affiliates: Austria, Brazil, Japan
---
Contact Info
| | |
| --- | --- |
| Name | Mr. Udo Thomas |
| Position | Senior Manager Sales & Business Development |
| Phone | 0049 6181 59 5288 |
| Email | Email Contact |
| | |
| Name | Ms. Stephanie Winkhoff |
| Position | Senior Manager Sales & Business Development |
| Phone | 0049 6181 59 5285 |
| Email | Email Contact |
| | |
| Name | Mr. Rudolf Singer |
| Position | Global Director Technology & Innovation |
| Email | Email Contact |
| | |
---
---
Products
High-Quality PGM Components:
Bushings
Crucibles
Danner Pipes
Electrodes
Feeder Cells
Gob & Stream Feeders
Orifice Rings
Plungers
Refiners
Stirrers & Stirring Cells
Tube Mandrels
Sophisticated Engineering:
Total System Approach
Physical Modeling
Mathematical Simulations
o Mechanical Engineering
o Electrical Engineering
o Thermodynamics
o Fluid Dynamics
Light-Weight Systems
Patented Constructions
Bionic Shape Design
Periphery Correlation
Life-Time Calculation
High-Tech PGM Materials
Engineered ODS Materials
o FKS® Agilit® (Pt PtRh)
o FKS® Rigilit® (Pt PtRh PtIr PtAu)
o FKS® Saeculit® (Rh Ir Au)
Cast Pt Alloys (Rh Ir Au)
Material Science (R&D)
Metallurgy
Chemistry
Periphery Products:
Adjusted Ceramic Stones
Refractories
Base Metal Accessories
Engineering of Adapted Steel Frames
Consulting & Training:
Life Cycle Management
o Continuous Improvements
o Technical Reports
o Campaign Reviews
Sophisticated Analytics
Metals Management
On-Site Support
Troubleshooting



---
---
---
---
---
---
---
---
---
---
The company Umicore AG & Co. KG offers its products and services in the area of Glass Fiber Production
---
If you want to submit a message or have further questions about the offered machinery, equipment or services, please click "Enter Contact Form..." to submit your message.
---
---